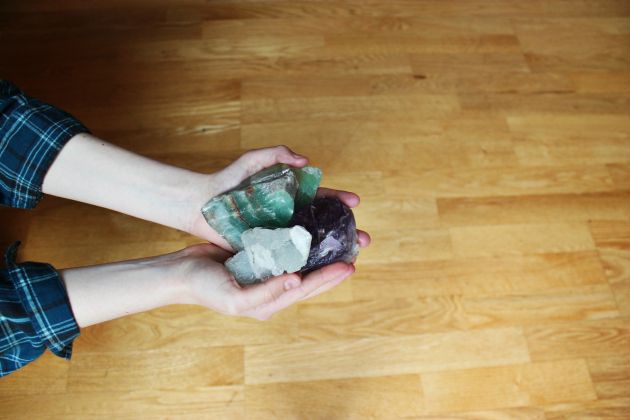 I've had a wild love relationship with crystals for as long as I can remember. My mom used to lay crystals on my sister's and my forehead whenever we had a headache or let us hold two beautiful, dark black crystals in our hands when we were scared. I loved feeling so in touch with magic growing up.
These days I have a small collection of crystals and I still use them regularly. Most of them are smaller because I like to take some of them with me when I travel (or move again - I have a couple of bigger ones that make any box super heavy so I am waiting to grow my collection until I have plans of staying in a place for longer than a couple of months).
I realize over and over again that cleaning and re-charging the batteries of crystals is so important and magical. I make it a priority to do it at least once a month but sometimes more often depending on the crystals. I swear that you can see when a crystal needs charging - they start losing their sparkle. You can see the colors fade and the whole crystal doesn't feel so bright anymore and the whole surface feels faint.
This is how I clean my crystals
// rinse them with cold water
// let them air dry on a nice towel, shawl or outside in touch with the elements
// leave them in a spot where they will be exposed to sun light and the shine of the moon (that's why full moon chargings are awesome - lots of good luna energy)
// check on them after 24 hours and see/ feel if they are charged and cleansed if not leave them out for longer
Whenever I get new crystals I do a cleansing ritual which almost works exactly like the above except that I like to add some smudging (I wrote about smudging
here
) and power charging to it. I usually use one of my favorite incense or a smudge stick and hold my crystal above it and just sway it back and forth. I turn it too so that all sides of the crystal get cleaned.
If I feel like it needs one I power charge it with a word, a goddess card or something else that I love and is powerful to me. If I want to power charge it with a word - I write said word on a nice piece of paper and leave the crystal for at least 24 hours. I love picking goddess or oracle cards to help charge my crystals.
I adore cleaning and re-charging them. It's so easy and in touch with nature and magic. All the good things come together.